Post by randai on Jul 29, 2020 12:52:01 GMT 10
I am planning on making a few stouts in the near future and had sort of followed other recipes/advice on what roasted grains to put in.
But I thought this time around I may try and get a bit of insight into what is the difference between these grains.
So the 4 malts I had on hand were

Crisp black malt - 1310 - 1540 EBC

Weyermann carafa special 2 1100 - 1200 EBC

Gladfield brown malt - 150 - 200 EBC

Gladfield light chocolate malt - 850 - 1100 EBC
I weighed out 10 grams of each and crushed them up in a mortar and pestle to around what I'd normally crush them to mash.
I put them in disposable tea bags.
Each mug got 20 grams of light malt extract into the cup, to simulate some base sweetness/maltiness. Hopefully to mimic not just the roasted grain flavour.
Each mug then get 160 mls of water... because I poured too much on the first 1 by 10ml.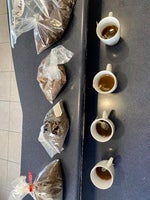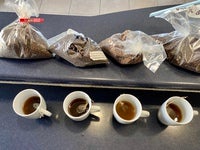 From the above myself and my wife tasted them back and forth.
So in general they all were fairly pleasant to drink and non were acrid or harsh in any way. So it may indicate I used too little malt in the tea bags or put too much water in.
Crisp Black Malt
Really smooth and almost a bit sweeter than the others.
Pleasant roastiness in the background, not much chocolate to my taste
more like a dark coffee, but not super strong in any regard.
Has a slight caramel flavour it seems to it.
Very enjoyable.

Wey Carafa Special 2
Drier and a bit more dark chocolate. Not smoother as I would
have thought from the whole dehusked nature of it
But drinks as if you had a dry stout or something, not a sweeter version.
Or maybe like if you had a schwarzbier where it was lacking any residual sweetness.


Gladfield Brown Malt
Noticably lighter than the rest, with almost no roast flavour.
But has a toastiness to it, sort of like a slightly overcooked piece
of wholemeal toast. Very different to the rest obviously, but more of a general background
light malty dark toast flavour.

Gladfield Light Choc

Almost like a mix between the the roast barley and the carafa.
Has a slight bit of dark chocolate, slight bit of roast, less in
both regards than the Wey Carafa and Crisp Black Malt.
Pretty tasty as well.
So as far as the actual drinks by themselves, we both enjoyed the Crisp Black Malt one the most. The Gladfield light chocolate the second and the Carafa Special 2 least.
With the brown malt being the most light and flavourless and hard to compare to the roasted grains above. But would work in a completely different way in the recipe.
The black malt was pretty tasty and in this setup we didn't get any harshness, ashy, acrid flavours to it at all.
Unfortunately I thought I had some Roasted Barley laying around, but didn't actually, which was the main comparison I wanted to make with the black malt.
I may attempt this in the future with other malts, as it worked out well. Obviously it isn't a complete insight, but it did help me note some flavours that were interesting to compare.
Maybe in the future I'd decrease the water or more finely grind/mill the malts to see if more flavour comes out.